Just 10km away and looming over Co Clare's west coast, the magnificent Cliffs of Moher stretch for 8km and 214m over the Atlantic Ocean. There are over 600m of pathways and viewing platforms along the cliff edge which allow the visitor to enjoy a spectacular and healthy cliff walk. The amazing views of the cliffs, the famous Aran Islands, Kerry Mountains, Galway Bay, O'Brien's Tower and the thousands of sea birds make the cliffs a magical place.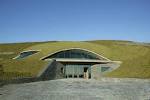 The Eco-friendly Visitors Centre opened in 2007.  It is set into the hillside and offers an offer an all-weather experience. The Centre is a unique structure which minimises the visual imprint on it's setting and makes significant use of Eco-friendly features such as geothermal and solar energy sources, extensive recycling and state of the art waste management.
O'Briens Tower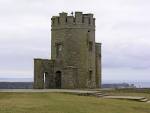 was built in 1835 by local landlord Cornelius O'Brien as a viewing point for visitors. The tower stands at the highest point of the cliffs of 214m and offers the best photo opportunity from the top viewing platform. Amazingly one can view five surrounding counties on a clear day. The tower is open daily and has a souvenir gift shop on the ground floor.